—
ISKANDAR, JOHOR was established on 8 November 2006.
…
The special economic zone of Iskandar Malaysia grew out of a 2005 government requested feasibility study by the Khazanah Nasional which found that the development of such a zone would be economically, socially and developmentally beneficial.
Iskandar Malaysia is modelled after the Pearl River Delta Economic Zone. It is envisaged to capitalise on its current synergies with Singapore as it aims to complement each other as an economic hub, similar to the relationship between Shenzhen and Hong Kong.
The development region encompasses an area of 2,217 square kilometres covering the city of Johor Bahru and the adjoining towns of Pontian, Senai, Pasir Gudang and the construction of a new administrative capital in Nusajaya. Johor Bahru District is included in its entirety, as are parts of the district of Pontian.
The population of Iskandar Malaysia was 1.8 million in 2013, rising from 1.3 million in 2008. The Iskandar region is planned to have a population of 3 million by 2025.
(http://en.wikipedia.org/wiki/Iskandar_Malaysia)
—
14 August 2016
Avoid Malaysian property, especially Iskandar: analyst
ISKANDAR'S PROMISE AND LETDOWN
Pundits continue to sing praises about the growth potential of Iskandar. In a drive around Nusajaya last month, we observed that the pace of construction seemed slow, with several projects that were fully sold years ago still under construction. One large billboard proclaimed "Akan Datang" and "Coming Soon" above a construction site hoarding for a luxury condominium project that failed to launch after the 2013 peak of the Iskandar hype. Needless to say, construction has not started.
As for the completed condominiums, banners displaying "For Sale" and "For Rent" are commonplace. A casual count estimates 10 per cent of the apartments are furnished with curtains. A medical centre that was launched with much fanfare was opened for business in late 2015. As of July, no more than a quarter of the clinics in the medical centre have been taken up by specialist doctors.
Some developers in Iskandar have dropped prices to move leftover apartments, adding downward pressure on valuations. Buyers who took deferred payment plans and paid down less than 10 per cent of purchase prices are walking away from their investments. Some investors have gone further, requesting developers to refund their downpayments by citing the inability to secure mortgages as the banks have tightened up on loans to foreigners.
The situation with commercial and industrial properties is similar. While millions of square feet of commercial and industrial space are completed and waiting for tenants, several high-profile projects have never broken ground.
…
I am eager to be the first to upgrade my call on Malaysian properties to a "Buy". However, against an uncertain political climate and economic outlook in the country, which could depress real estate valuations or further weaken the ringgit versus the Singapore dollar, my call on Malaysian real estate is an "Avoid" for now.
ABOUT THE AUTHOR: Ku Swee Yong is a licensed real estate agent and the CEO of Century 21 Singapore. His fourth book "Weathering a Property Downturn" is available in the bookstores.
http://www.todayonline.com/business/avoid-malaysian-property-especially-iskandar
…
—
11 May 2015
M'sian property glut prompts S'pore Govt to warn buyers of overseas risks. Full story: http://tdy.sg/1zVhfYP 
SINGAPORE — In Johor alone, there are around 336,000 new private residential units in the pipeline — more than the total number of private homes  in Singapore.
And this does not include the 1,400ha of reclaimed land near the Tuas Second Link, which will be developed from 2020 onwards.
In the light of rising concerns about this oversupply of private properties across the Causeway, the Singapore Government will ramp up efforts to raise awareness of the risks involved in buying overseas property.
"Given these indications, buyers are becoming more cautious, as shown by many reports," Minister for Culture, Community and Youth Lawrence Wong said in Parliament today (May 11), in his capacity as a member of the Monetary Authority of Singapore's (MAS) board of directors.
"Official Malaysian data suggest the Johor housing market is already slowing down … Singaporean buyers, too, are becoming wary."
According to a survey of real estate agencies, the number of Malaysian properties bought through these agencies dropped from 2,609 in 2013 to 838 last year, said Mr Wong, who was replying a query by Member of Parliament Lee Bee Wah (Nee Soon GRC).
http://www.todayonline.com/singapore/govt-step-efforts-raise-awareness-foreign-property-investment-risks
—
Maybank sounds warning on Iskandar, urges caution; says Klang Valley, Penang are better bets. http://tdy.sg/1JcI2Ps 
ISKANDAR (JOHOR) — The existing glut of homes in Iskandar will be aggravated by a huge incoming supply this year and the next, which would put property values under greater pressure over the medium term, a research report by Malaysia's largest bank showed.
Advising investors to be cautious about the region, the Maybank report said that Klang Valley and Penang were better bets. Klang Valley, in particular, is preferred because of the upcoming rapid transit lines, and the Kuala Lumpur-Singapore high-speed rail project that will end at Bandar Malaysia. More importantly, Greater KL and Klang Valley has a strong population growth potential — a possible 40 per cent increase to 10 million by 2020 — that offers more sustainable demand for properties, it added.
The report pointed out that the value of property transactions in Johor had fallen by 33 per cent quarter-on-quarter in the fourth quarter of last year, underperforming the country (-7 per cent) and other major cities such as KL (-12 per cent) and Penang (8 per cent).
Property prices in Johor were also weaker than that of other cities, with the prices contracting 1 per cent quarter-on-quarter. In contrast, property prices in the whole of Malaysia dipped 0.2 per cent.
…
The aggressive land-banking activities by Chinese developers could also worsen the glut and lead to price wars in the high-rise mixed-development segment, the report said.
…
Property analysts said the concerns raised by Maybank about Iskandar are valid, especially at a time when demand for homes in the special economic region has started to wane, following the implementation of property cooling measures targeted at foreign buyers and tighter lending conditions by banks. If the oversupply situation is not managed well, the vibrancy of Iskandar will be affected with a large number of homes or even entire townships left vacant, the analysts said.
http://www.todayonline.com/business/maybank-sounds-warning-iskandar-urges-caution
—
VIDEO: 2 S'poreans tell us abt the advantages & pitfalls of owning property in Iskandar, Johor http://tdy.sg/1CkaIRj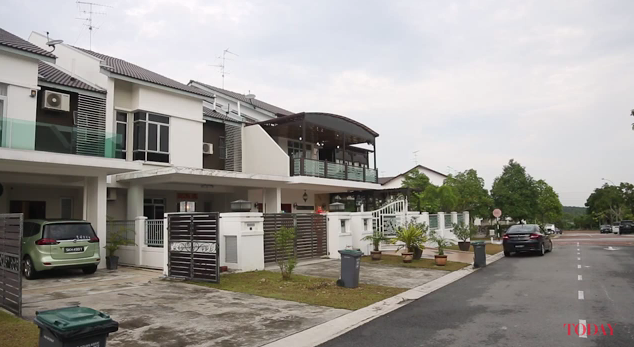 …
—
There are downsides as well, not least the crime problem in Johor. For their safety, Mr Naharudin said his family stays indoors after dark. "We stay at home most nights, have dinner together, and maybe watch TV. We just don't want to be at the wrong place and the wrong time." he said. 
THE BIG READ: S'poreans tell TODAY abt the advantages, pitfalls of living in Iskandar, Johor http://tdy.sg/19URvzj 
Teacher Naharuddin Shariff (right), 46, owns a home in Johor and commutes from Monday to Friday with his daughters to Singapore.Photo: Raj Nadarajan/TODAY
SINGAPORE — Every weekday morning before the sun rises, Singaporean teacher Naharudin Shariff, 46, will leave his home in Nusajaya — about 20 minutes' drive from Johor Baru's city centre — and make his way across the Causeway to take his three daughters to different schools, before driving to work himself.
..
The daily shuttling between the two countries is a small inconvenience for a better quality of life in Johor, he said. "The whole family is happier (in Johor)," he told TODAY while at in his three-storey house in Horizon Hills, a gated community in Nusajaya. "Our house here is a lot bigger (compared with the condominium unit he used to own in Singapore). My wife can now have the spice garden she had always wanted and our kids keep a rabbit and a chick as pets."
He added: "It is very quiet, especially at night. Very peaceful and relaxing. You don't hear vehicles or the MRT. When you look out the window, you see trees instead of another concrete block."
…
Like Mr Naharudin, Mdm Chin Yeok Tsui, 39, has been making the daily commute between Johor and Singapore. The housewife moved to Johor in 2012, after her husband got a job there….
Her neighbours are more friendly to one another compared to the ones whom she had in Singapore, she said. In general, people are just "a lot friendlier and more relaxed" in Johor. "Because they look so relaxed, I also feel more relaxed," she quipped.
…
Over the years, many Malaysians have relocated to Singapore in search of better job opportunities and a higher standard of living, among other reasons. But like Mr Naharudin, Mdm Chin and Mr Wong, Singaporeans are moving in the opposite direction for a slower pace of life, lower cost of living and less congestion – factors that contribute to what they felt is a better quality of life.
http://www.todayonline.com/singapore/big-read-iskanders-lure-strong-pull-sporeans-0
——————————————————————————————————–