_____________________________________________________________
After Steph Micayle's Why  I am not proud to be Singaporean, another Singaporean expresses her thoughts.
Steph Micayle: Why I am not proud to be Singaporean
—–
Vaune will ride through Malaysia, Thailand, Laos and China before reaching Tibet. She will then ship her motorbike to Thailand and fly there before riding back to Singapore.
Pretty biker to ride 8,000km on motorbike from S'pore to Mount Everest for charity http://bit.ly/1KPV0a7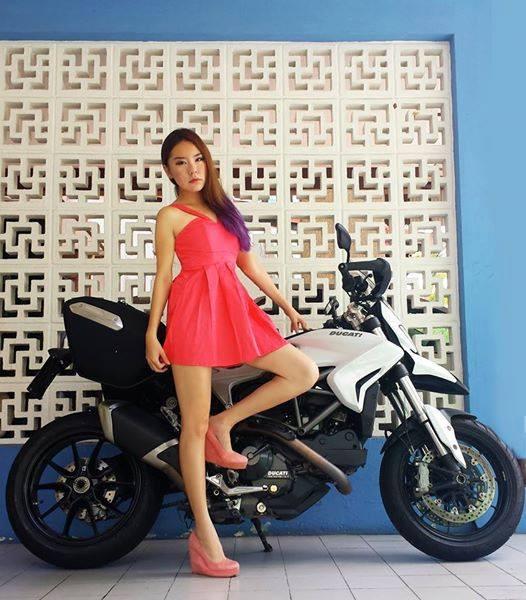 …
Kok Xing Hui
The Straits Times
4 June 2015
Size does not matter to real estate agent Vaune Phan.
The 27-year-old weighs just 45kg, yet she is now riding her 120kg motorbike from Singapore to the Mount Everest base camp in Tibet.
The month-long, 8,000km journey, which started yesterday, will help raise awareness and funds for the Singapore Disability Sports Council and disabled athletes here.
"Since becoming a rider, I have realised that life is very vulnerable. I know of people who got into accidents and became disabled," Ms Phan said.
Among her friends is Paralympian Desmond Tong, 37, who lost a leg following a bike accident.
http://singaporeseen.stomp.com.sg/singaporeseen/this-urban-jungle/pretty-biker-to-ride-8000km-on-motorbike-from-spore-to-mount-everest-for-charity#xtor=CS2-4
—
—
Petite Vaune on bike ride of a lifetime
SINGAPORE, Malaysia – A trip of more than 7500km is a challenge for any motorcyclist, if the route leads through jungle, swampland and into the Himalayas the trip becomes tough, dangerous and a huge adventure when tackled as a solo ride.Vaune Phan, 27, pronounced "Von", from Singapore on her medium capacity dual-purpose Suzuki DR 200, describes herself as feminine, yes, but tough and rugged for the ride. Her trip will take her across half of Asia and into the foot hills of Himalayas to the Mount Everest base camp.
…
After many months of preparation the young woman will start her big adventure later in June. Phan will ride, sponsored by LiquiMoly lubricants, from Singapore via Malaysia, Thailand, Laos, China and Tibet to the Nepalese capital Kathmandu.
http://www.wheels24.co.za/BikesQuads/Petite-Vaune-on-bike-ride-of-a-lifetime-20150
—
Motoworld is proud to be a supporter of Vaune Phan and her latest motorcycle escapade to Mount Everest. Her willingess to overcome the many potential challenges she may face in her long arduous journey is fitting with our company's motto "Live Your Passion"
We are confident that our gear and apparels by RS Taichi along with Pirelli tyres will make for a more comfortable and safe journey for Vaune, allowing her to focus more on her riding rather than the harsh elements she will be facing.
Team Motoworld sincerely wishes Vaune Phan a safe and enjoyable journey ahead!
Team Motoworld
Live Your Passion
—
FROM HER FACEBOOK PAGE, A MESSAGE!
..
Hello everyone.
I am Vaune, the only Vaune Phan in the whole of SingaporeBorn and bred here for those who aren't sure.
Thank You, to all those whom have shared what I merely expressed the things truly felt from my heart, as a true blue Singaporean.To my motorbikers, keep riding and ride safe always!
To our drivers, safety first before beating the ERP timings
—
Top Tweet
From Vaune Phan's Facebook page, a message http://weehingthong.wordpress.com/2014/02/07/vaune-phan-another-singaporean-speaks-her-mind/ …
—
Top Tweet
Vaune Phan, in October issue of FHM (#180). is no ordinary Singaporean http://weehingthong.wordpress.com/2014/02/07/vaune-phan-another-singaporean-speaks-her-mind/ 
—
Top Tweet
Vaune Phan, another Singaporean, speaks her mind! http://wp.me/p1Pwkp-8o
—
Vaune Phan is no ordinary Singaporean. Find out more: scroll to the end of this Post!
—
http://sg.news.yahoo.com/blogs/what-is-buzzing/female-biker-rant-rising-costs-transportation-singapore-gains-111056511.html
—
YAHOO! NEWS SINGAPORE
Female biker's rant on rising costs of transportation in Singapore gains traction
| What's buzzing? – 2 hours 50 minutes ago
A Facebook post by a lady known as Vaune Phan regarding the rising costs of transportation in Singapore has gained much traction.
The post included an artistic photo illustration showing a lady sitting on a horse in front of an ERP gantry. The photo, which was used to illustrate her rant, was produced by Singapore-based photography studio, Lumina Studio.
The photo is labelled with the Chinese phrase, "Bo Bei Chow" ("No Horse Run"), which means a full-proof plan.
—
November 14, 2013
—
—
SOMEONE FINALLY SAID IT pic.twitter.com/AZS5Q7Mumg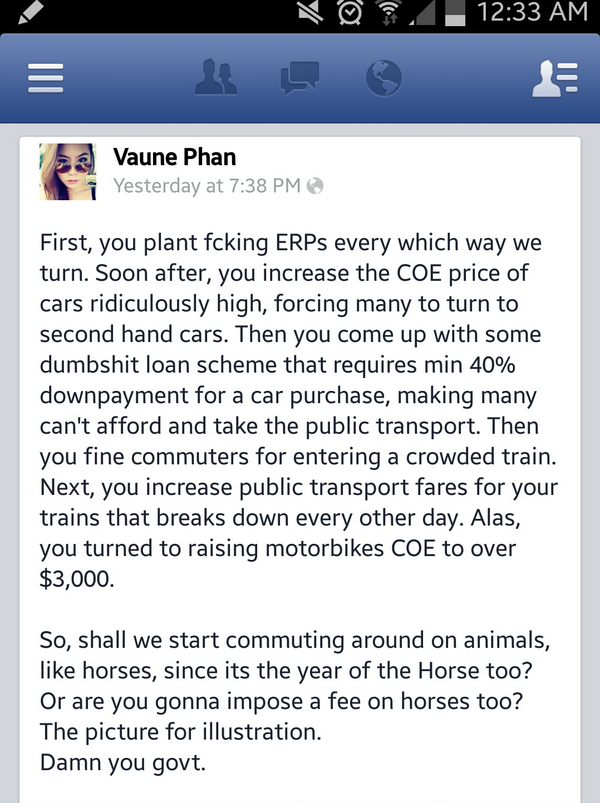 —–
First, you plant fcking ERPs every which way we turn. Soon after, you increase the COE price of cars ridiculously high, forcing many to turn to second hand cars. Then you come up with some dumbshit loan scheme that requires min 40% downpayment for a car purchase, making many can't afford and take the public transport. Then you fine commuters for entering a crowded train. Next, you increase public
transport fares for your trains that breaks down every other day. Alas, you turned to raising motorbikes COE to over $3,000.
So, shall we start commuting around on animals, like horses, since its the year of the Horse too? Or are you gonna impose a fee on horses too? The picture for illustration.
Damn you govt.
—
Vaune Phan is someone special!
Singapore FHM
She Rides Dirty: Vaune Phan
Keep your female-driver jokes to yourself; Vaune Phan is one biker chick that can take you on the track.
We hear you're into enduro riding. What's that?
Enduro riding is an off-road endurance type of challenge. We go through different obstacles such as logs, river crossing and things like that. But I don't do stunts apart from basic jumps because stunt riders start from a young age.
How many bikes do you own?
I have a Suzuki DR200 scrambler (for off-road) and a Ducati Hypermotard (for road use). The latter is too heavy to ride on dirt; it's like a cross between a scrambler and sports bike.
You have such a manly hobby; are you more girlie when you're not riding?
My mother thinks I'm really chor lor! I don't think it makes a difference. Like most girls, I enjoy dressing up — wearing heels and skirts.
How do men react when they find out you're the real-deal biker chick?
They'd usually start by asking what is the class of my licence. They tend to find me very sporty and adventurous because female riders aren't very common here.
For the full interview, read the October issue of FHM (#180).
http://lifestyle.xin.msn.com/en/magazine/fhm/she-rides-dirty-vaune-phan
———————————————————————————————