_____________________________________________________________________
GRAFFITI
It comes from the Greek word γραφὴ (graphē) , which means writing. It can be writing, scribbling, scratching, painting, spray-painting in a public space.
It is probably as old as man himself.
Today, graffiti includes Street Art and Murals.
—–
*The Lego Mural: Hated by JB City Council, Loved by the People!
*Lithuanian artist Ernest Zacharevic: Fame in Penang, Infamy in JB
*JB: Crime, the Lego Mural and the 'haunted' Villa Nabila
—–
RUSSIA DOESN'T LIKE IT!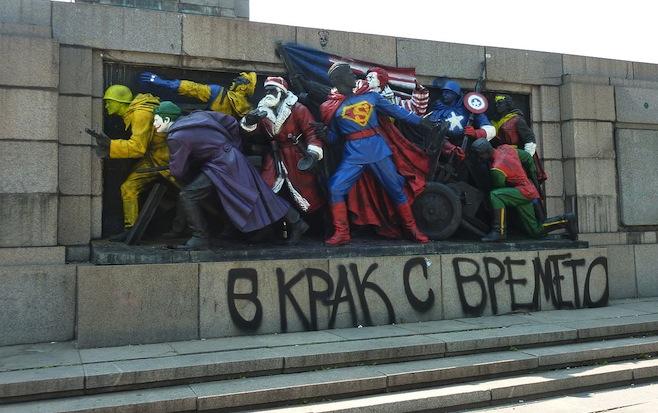 Russia is demanding that Bulgaria try harder to prevent vandalism of Soviet monuments, after yet another monument to Soviet troops in Sofia was spray-painted, ITAR-Tass reported.
The Russian Embassy in Bulgaria has issued a note demanding that its former Soviet-era ally clean up the monument in Sofia's Lozenets district, identify and punish those responsible, and take "exhaustive measures" to prevent similar attacks in the future, the news agency reported Monday.
The monument was sprayed with red paint on the eve of the Bulgarian Socialist Party's celebration of its 123rd anniversary, the Sofia-based Novinite news agency reported.
The vandalism was the latest in a series of similar recent incidents in Bulgaria — each drawing angry criticism from Moscow.
…
Over the weekend, the citizens of Sofia, Bulgaria awoke to find a public monument to Red Army defaced by an unknown interventionist. The statues of Soviet soldiers who "liberated" Bulgaria in 1944 were painted as Superman, Ronald McDonald, Santa Claus and other pop culture icons of capitalist Americana. Below it, a graffiti caption read: "In step with the times!" Today, the Bulgarian Minister of Culture condemned the act as "vandalism," concluding that "We (Bulgarians) are the only ones led by some kind of destructive force when it comes to monuments of socialism." Maybe, maybe not. Czech artist prankster-extraordinaire David Černý had pulled a similar stunt years ago when he painted a Soviet tank pink. (Photos: SoHo41/Flickr)
http://www.jeremyriad.com/blog/art/3d/sculptures/bulgarian-banksy-turns-red-army-into-americana/
—–
中國報訊:又有一幅壁畫在檳城古蹟區爭艷!愛情巷后方老屋的牆上出現"陸上行舟"。
詳細報導翻閱今晚∕明日《中國報》圖為這幅巨型老人划船壁畫約10多尺高,民眾站著拍照,猶如也站在舢舨上,形成"同舟共濟"的有趣畫面。
China News: all in the family and a mural monument zone in Penang!
Love Lane appeared on the rear wall of the old house "boats sailing on land". Details read tonight/territory tomorrow the Chinese newspaper pictured as giant man rowed mural painting some more than 10 feet tall, people standing photos, like standing on a sampan, forming the "same boat" interesting picture.
(Translated by Bing)
[槟城新闻] 乔治市最近又出现了一幅充满创意的巨型壁画"陆上行舟"。
New mural at Klang Road
[Penang news] Georgetown has also recently developed a creative giant mural painting "boats sailing on land". New mural at Klang Road (Translated by Bing)
—–
MURALS IN GOPENG, PERAK
Taken on 1 December 2013
—
NST
30 November 2013| last updated at 09:38PM
Gopeng town's new draw
GOPENG: THE former mining town of Gopeng has a new attraction. Five murals depicting the lives of communities and the tin mining industy of yesteryear can be seen along Market Street in the former mining town of Gopeng.
The paintings are done by artists Woh Jing Hao and Jane Low who started painting the murals in August.
The five murals are named Gopeng Orang Asli Hut, A Chinese Cultural Activity, Dulang Washing, The Original Gopeng Lai Fun Noodle Sold In A Tricycle and Open Court Sittings, and The Man On Old Scooters Beside A Traditional Malay Rojak Fruit Stall.
They are part of 10 murals being drawn by the two artists.
The other five, Gopeng Water-Pipe Deployed By A Herd of Elephants, Rafflesia Flower and The Orang Asli Blow-Piping, Gravel Tin Mining, A Traditional Olden Chinese Home and the Rubber Industry are expected to be completed in February next year.
Part of 'The Original Gopeng Lai Fun Noodle Sold in a Tricycle and Open Court Sittings' mural.
…Read more:
Gopeng town's new draw – Northern – New Straits Times
http://www.nst.com.my/streets/northern/gopeng-town-s-new-draw-1.416311#ixzz2m5zDrMQG
—
In my years of study and work in New Zealand, I came across a great variety of graffiti.
Some were political. Many of them demanded that Nelson Mandela be set free. 
Here is an example from South Africa.
SOME GRAFFITI COULD BE AMUSING, AND QUITE CLEVER, TOO.
There was one in Wellington, on a lamp post. At the bottom, just a foot or so from the ground, were the words, For short dogs. About 2 feet from the ground were the words, For tall dogs.
—
All over the world, the authorities want to regulate graffiti writing, and best of luck to them!
—
STREET ART
While graffiti is largely seen in a negative way, street artists don't perceive themselves in that way. They view themselves as making a positive contribution to their surroundings.
They are not wrong. Think of old, drab walls of buildings that won't be repainted simply because the occupants pay rent to a landlord who is missing, with the rental money going into a bank account. A street artist comes along and paints his 'masterpiece' onto the blank wall.
…
KL Street Art – Street Art (Graffiti) in Kuala Lumpur, Malaysia
…
Graffiti Arts in Malaysia
—
*Links of interest:
Mar 9, 2012 – Mana.my promotes tourist attractions in Malaysia, bringing you to interesting places and happenings around Malaysia, introduces you tourist …
Street Art
It's only until recently that almost all forms of graffiti in Malaysia are viewed as a form of vandalism. The struggle between the graffiti artists and the authority, however, has been a back-and-forth, tiring affair, beneficial to neither party. The KUL Sign Festival, however, seeks to change all that.
Although official stance of the authorities is against graffiti art, not all public opinion has been against the creative expression. The street art that the DBKL (KL City Hall) hurried to wipe off has often gained their own share of fans, and many opine they have added some excitement and colour to otherwise bleak exteriors (such as the Sungai Klang riverbanks near Central Market).
– See more at: http://www.mana.my/art-culture-malaysia-brightening-kl-with-graffiti/#sthash.ipkwkkC2.dpuf
*Graffiti Street Art Klang River – Kuala Lumpur – AnotherTraveler
Mar 12, 2013 – You really notice the pride Malaysians have for their city and country. Graffiti Street Art Kuala Lumpur. "Wall art of musician Yuna". Graffiti Street …
—
Free Malaysia Today
'Graffiti is to protest against govt'
Graffiti is also to express a certain political view, other than to gain recognition, says a graffiti artist.
PETALING JAYA: Graffiti is a form of protest against the government to claim back public space.
Graffiti artist Big Blob or Big B, 30, who works as a graphic designer, said that other than proving a point or to gain recognition, graffiti is also to express a certain political view.
"We do it to protest to the government and companies who advertise on billboards, who force us to see things we do not want to see," he said.
According to him, the movement started in Batu Pahat back in the late 1990s and early 2000s. Graffiti is an element of hip-hop although not all graffiti is hip-hop inspired.
"We used to be one crew but the movement has since split up," he said.
Big B's interest on graffiti was piqued back in 2001 while studying in Melbourne, Australia.
"While commuting by train from my house to the university, I noticed how along the track-side it was full of graffiti. I became interested to the colours and shapes," he said.
…
As Big B does graffiti as a hobby, he does it when he feels like it.
"Sometimes I do it alone and sometimes I do it with other writers," he said, explaining how graffiti artists also call themselves writers.
Commenting on the illegal aspect of graffiti, he said the thrill comes from doing something you're not supposed to do.
His favourite 'illegal' place to do graffiti is on trains while he does graffiti at the Central Market near Klang river and Section 18 and 20 in Shah Alam where designated areas have been given to graffiti writers to present their art work.
http://www.freemalaysiatoday.com/category/nation/2013/11/25/graffiti-is-to-protest-against-govt/
————————————————————————————